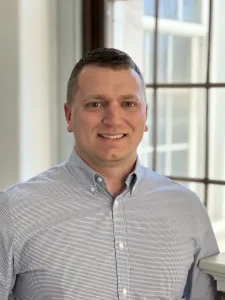 Contact Info
Scott County Clerk Allen Seabaugh
P.O. Box 188
131 S. Winchester Street, Room 105
Benton, Missouri 63736
Phone: 573-545-3549 | Fax: 573-545-3540
Email: countyclerk@scottcountymo.com
Office Info
Open Monday through Friday 8:00 a.m. to 4:30 p.m.
Located in the Scott County Courthouse on the South end of the First Floor (Room 105).
Staff:
Allen Seabaugh, County Clerk
Beverly Riley, Deputy Clerk
Rosemary Irwin, Deputy Clerk
Marissa Menz, Deputy Clerk
Emily Phillips, Deputy Clerk
Services
Contact the County Clerk for the following:
Election questions
Voter registration 
Issuing Notary Commissions to those who are approved by the Secretary of State.
Sale of liquor licenses in Scott County
Frequently Asked Questions
How can I receive an absentee ballot?
Submit a request for an absentee ballot in writing to the County Clerk's office. Include your name, address, social security number, your reason for requesting an absentee ballot and the address to which the ballot should be mailed. You must sign the request.
How can I obtain a flood plain permit?
Contact Emergency Management with the following information:
name of property owner,
parcel number,
any information you may have on the property's elevation and a physical 911 address.

How do I get an E911 address for my property?
Contact the Emergency Management Director at 573-545-3549 at the Scott County Courthouse in Benton.
County employee health plan - machine reading files: https://www.mymedicalshopper.com/mrf/scott-county